// Updated on the first of October 2019 to add hammer prices and analysis
Roma Numismatics' upcoming XVIII auction, which closes on the 29th of September 2019 (or closed then, depending when you read this), opens with part 2 of the Hermann Lanz collection of Celtic coins. Part 1 back in March was great. I spent ages crafting my auction plan only to realise very quickly that the estimates were fantasy, and that I was going to be nothing more than a spectator. I particularly enjoyed watching lots 37 (estimate £2,000, hammer £22,000), 38 (estimate £3,000, hammer £20,000), and 43 (estimate £2,000, hammer £22,000). I still to this day haven't worked out what was so special about them.
Part 2 is more of the same, with yet another lovely selection of coins. I'm not even thinking about bidding this time. I'm just going to get comfy, grab some popcorn, and watch the show.  I can't even begin to guess which lots are going to go for silly prices but I'm hoping it's lots 25, 38, 111, 112, and 183 so I don't feel bad about not bidding.
Away from the Celtic section, the following lots caught my eye.
Ancient Architecture (Lots 652 & 667)
These two Greek coins are lovely examples of ancient architecture, and are probably the only images we have of these once great places.
Lot 652 (estimate £750, hammer £1,000) is a heavy (10.62g) silver stater from Cilicia showing the walls of Tarsos. Well, three turrets worth of the wall anyway. The reverse has a bull which isn't very architectural, so I'll move on.
Lot 667 (estimate £3,000, hammer £4,200) is a Sidon Dishekel (28.12g, 28mm) which has a stunning picture of a galley in front of the walls of Sidon. It's not in the best of conditions, what with it being 2,444 years old, but I think that actually improves the picture. The flow lines on the coin give it atmosphere. Literally. They look like smoke above the city skyline.
The reverse features the King of Persia and his driver in a chariot drawn by two horses, and, for some reason forever lost to time, an incuse goat. Again, not very architectural, but just as beautiful as the other side.
The estimate is £3,000 which I think will be left behind very quickly (turns out I was wrong). This one (in worse condition) sold for €8,000 (with a max bid of €13,200), while this one (also worse condition) is available to buy at €15,000 (approx £13,500). This one in much better condition sold in 2015 for $6,500 plus fees, but it was a contemporary imitation and not the real deal, and this one (better quality obverse but with less eye appeal, and a worse reverse) went for $15,000 (+ fees) in 2015.
Tarpeia (Lots 847 & 1038)
Lots 847 and 1038 celebrate the legend of the Vestal Virgin Tarpeia, who betrayed Rome to the Sabine king, who then had her crushed to death with his warriors' shields for her greed. I believe these are the only two Roman coins featuring Tarpeia, and they would make a nice mini collection.
The first coin is a silver Denarius minted by Titurius Sabinus in 89 BC and shows Tarpeia buried to her waist in shields, fighting off two soldiers about to add their shields to the pile. This one has an estimate of £200 ( hammer £600).
The second coin is a touch more expensive, with an estimate of £3,500 (hammer £4,000). The auction notes helpfully point out they sold a coin in worse condition in 2017 for £5,500 (+ fees). This is a silver Denarius of Augustus (hence the price) from 19-18 BC, and the reverse shows Tarpei buried to the waist by ten shields.
I Beat the Gauls (Lots 951 to 955)

Lot 951 is a Julius Caesar Denarius from 48-47 BC with a superb cartoony reverse. It shows a bound Gallic captive, thought to be Vercingetorix, beneath a trophy holding a Celtic shield and a carnyx. This coin is an early example of a long line of Roman coins showing bound captives on the reverse.
You can tell by the length of the auction notes that this one is going to be expensive. And it is, with an estimate of £40,000 (hammer £44,000) . I managed to find three other examples of this coin that had sold, and in a fit of absolute geekiness, I converted the hammer price of each to £ using the average exchange rate on the day of the auction, and then applied an inflation calculator to the answer:
So the estimate of this coin is twice the most expensive previous sale. Lot 951 has much better centring than the others, and although the captive is less precisely rendered, it's a more attractive coin as a result of that. Twice as attractive? I'll be watching to see.
952 to 955 are the same coin, just in decreasing quality. The obverse shows the head of a Gallic captive, again thought to be Vercingetorix, and the reverse shows a Celtic war chariot in action.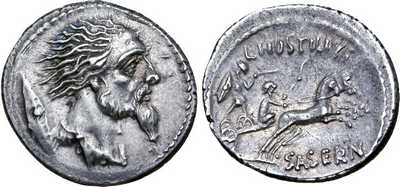 I'm struggling to work out which one I'd bid on if I had the cash. 952 has the best portrait, but the shield is poor and the reverse isn't the best. 953 has the best reverse, a good shield and a good portrait, but I think I prefer the portrait on 955 (the cheap one). They are very similar (maybe even the same dies?) but the portrait on 955 is more worn and haggared which is probably how Vercingetorix was at this stage.
Less is More (Lot 902)

Analysis
Well, that was a bit of a marathon. The combination of floor bidders, phone bidders Roma Live (web) bidders, bidder.ch (web) bidders, and low estimates meant it took 13 hours and 15 minute to get through all 1376 lots. The auction started at 10 am and by 18:07 they had completed 679 lots with 697 still to go. I decided at the last moment to bid on several lots at either end of the auction (and in the middle) so I ended up listening to it all, although the last hour was really just to see if Richard's voice would survive.
It did, although he said it gave out just after he finished.